System Solution
DMG MORI's expert engineers with specialized knowledge provide the optimal system solutions for each customer.
Having a long experience in machining technology and automation, DMG MORI offers one-stop service for manufacturing automation that optimizes customers' productivity. We propose a wide range of automation systems to cover various types of production, from multi-kind/ small-lot production to mass production.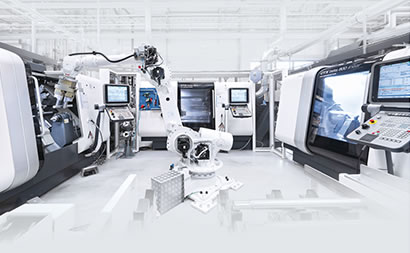 Providing turnkey solutions from DMG MORI's four bases to our customers around the world.
There has been a growing demand for so called "turnkey" solutions where multiple machines are integrated into a complete system that enables immediate start of mass production after delivery, in line with the trend toward globalization of our automotive customers and the expansion of the automobile industry particularly in emerging countries. DMG MORI has established the System Solution Plant at its Nara Campus in order to meet this demand.
The system Solution plant is dedicated to turnkey projects and capable of accommodating four 80-m long production system lines. It also employs the latest measuring instruments including a CMM, circularity tester and surface roughness tester to allow for an immediate quality check of machined workpieces.