Engineering
Solving customers' production issues with a broad outlook
We support our customers throughout the process from product selection to establishment of the production system.
We put a focus on offering application technologies that meet their demands and solutions to production issues such as improvement of cutting conditions. DMG MORI engineers are committed to providing each customer the optimal solution including process setting, cutting conditions, fixtures and tools, peripheral equipment, software and automation of a whole factory.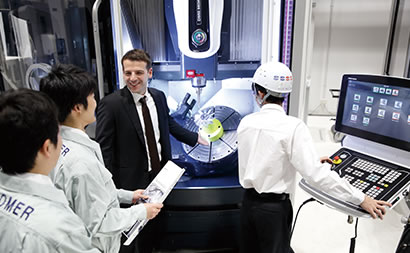 Global engineering system
Our engineers equipped with expertise and experience are assigned at DMG MORI's main operation bases. They provide technical support for customers as a service contact throughout a process of "technical proposal," "quotation," "agreement," "acceptance test," "delivery" and "customer acceptance."
Global Consultation
Our engineering teams handle orders across multiple countries. For example, each process of order placement, run-off and delivery can be carried out in different countries. We will also make proposals based on local circumstances, and work hard to meet requirements from both global and communitybased businesses.

Our engineering teams based in each country collaborate with each other to handle orders like this.
Resident engineering service
DMG MORI's machine tool professionals who have received specific training are available to be embedded at customers' sites to provide solutions that maximize machine tool performance and lead customers to problem solving.
We receive customers' demands and issues from the resident engineers to reflect the feedback to the future development of even more attractive products.