News/topics

2021/01/12 UP
Tag

Digitalization
Cutting-edge technology
New technology
New solution
DMG MORI CO., LTD. (hereinafter called DMG MORI) developed "IoTconnector," a communication device compatible with various open protocols used for networking of machine tools, and will offer it as a standard feature of its machine tools*1to be shipped from November 2020 onwards.
With the advancement of machine tool technology, we are now able to provide customers with advanced cutting solutions such as 5-axis machining and mill-turn operation, and help them achieve process integration for greater production efficiency. In recent years, many shop owners find it necessary to accumulate and analyze data using sensing and IoT technologies to make their production processes even more sophisticated, and accelerate their efforts towards digitization. In response to such a trend, DMG MORI will offer IoTconnector as standard as a solution for digital manufacturing.
IoTconnector is a device featuring PC-like functionality. Embedded in the electrical cabinet of a machine tool, it allows for network connections via open protocols. Due to good compatibility with various open protocols commonly used for machine tools, IoTconnector enables the connection of DMG MORI machines to the IoT system consisting of devices and equipment from different manufacturers via network, thereby facilitating shop digitization.
■Main Features
1. MDC software for data connection
・Compatible with open protocols including MTConnect, OPC UA and MQTT*2
・Connects DMG MORI machines and the IoT system consisting of devices and equipment from different manufacturers via network
・Improves network performance of machine tools and enhances highest level of security*3

2. NETservice4.0 for online support
・Connects your machine with DMG MORI Service Center online for remote troubleshooting
・File forwarding function to send data necessary for troubleshooting to Service Center online
・Visual support with SERVICEcamera (Option)

3. DEVICE MANAGEMENT for online upgrade
・Security update to the latest version
・New software and applications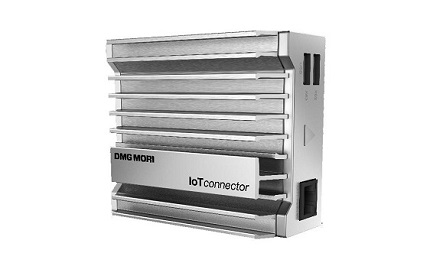 Product Name
IoTconnector
Applicable controls*4
+ For CELOS-equipped models: MAPPSV/MAPPS IVS*5 /
Siemens 840D SL Operate / Heidenhain TNC 640
+ Siemens 840D SL Operate / 840D SL1
+ Heidenhain iTNC 530 HSCI / iTNC 5302 / TNC 620 / TNC 640
+ FANUC 30i B / 31i B / 31i B5 / 0i TF / 32i
Communication protocols
MTConnect, OPC UA, MQTT
*1 IoTconnector is not available for some models.
*2 MTconnect is a registered trademark of AMT (Association For Manufacturing Technology).
 OPC UA is a registered trademark of OPC Foundation.
 MQTT is a trademark of IBM (Application for trademark registration has not been filed).
*3 An in-company investigation.
*4 For machines already delivered, IoTconnector will be retrofitted.
*5 Scheduled to be available in 2021
※DMG MORI, IoTconnector, CELOS, NETservice and SERVICEcamera are registered trademarks or trademarks of DMG MORI.