News & Topics

2017/02/15 UP
Tag
One of the biggest highlight of our booth at JIMTOF 2016 is "System Solution." We will showcase the automation system that combines DMG MORI machine tools and robots of FANUC and NACHI-FUJIKOSHI as open innovation.
"Automation systems" vary in a wide range depending on workpieces, production processes and implementation methods. As DMG MORI offers broad varieties of automation product lineups, it is difficult for us to display every one of them at the single event.
So here we provide detailed description of automation systems which are categorized into three types. We hope this would be of help to you when you consider employing automation systems and need comparison data of products by different manufacturers.
| | Standard Automation | Cells | Systems |
| --- | --- | --- | --- |
| Outline | Automation system integrated into a machine | Modularized automation system | Turnkey automation system |
| Equipment that can be used | Machine tool, modularized transfer unit (integrated into a machine tool) | Machine tool, modularized transfer unit and peripheral equipment | Machine tool, transfer unit, peripheral equipment |
| Number of machines | 1 unit | Up to 8 units | No limit |
| Production system | Cell production | Cell production | Cell production、Line production |
Standard Automation:The standard automation system built in a machine tool at the development stage
The system transfers workpieces with pallet pool systems and robots, enabling continuous machining of multiple workpieces on one machine.
As the system is a built-in type, it can achieve short delivery times, easy installation and a quick implementation of automated processes after installation. All machining processes can be completed on one machine, so it is the most reasonable and space-saving solution for customers. What's more, some of the units can be controlled by an NC unit of a machine, so it brings benefits of easy operation and maintenance.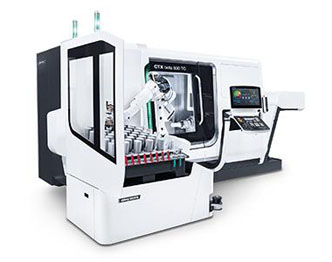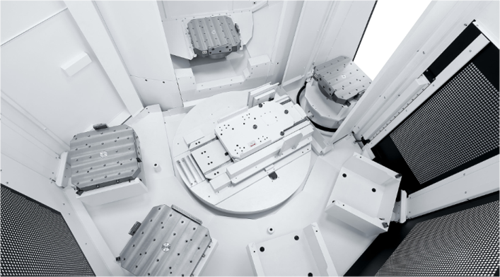 Cells:The plug-and-play solution achieved by docking modularized transfer systems such as pallet pool systems, gantry loaders, robots and tray changers with machine tools
When a machine is purchased, necessary module(s) can be integrated into the machine to build a system.
The system employs standardized units, enabling short delivery times at reasonable prices. It also offers various combinations of modules according to customer demand. The unified operability and maintainability of the modules ensures easy operation.
DMG MORI can provide the integrated system consisting of up to eight machines and modularized units. As modularization of measuring systems, washing units, deburring units are also in progress, the integration of the post-processes will be possible in near future. The system features flexible arrangement and expansion of itself.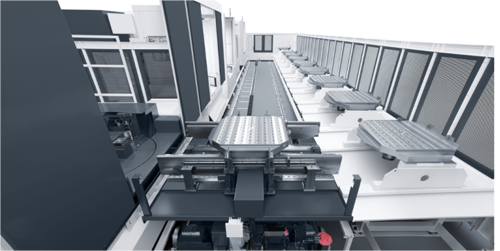 Systems:The automation system that combines any machine tools, transfer systems, peripheral equipment according to customer needs
The biggest difference from "Cells" is that the system can be combined with non-modularized units and customer-supplied equipment (measuring systems, washing units, air blow units, leak testers, etc.) and that the number of the machines to be connected is not restricted. DMG MORI builds the systems that fully meet the customer needs from scratch and offers them as a turnkey solution.
The before-mentioned "Standard Automation" and "Cells" are mainly for cell production while "Systems" is for both cell production and line production.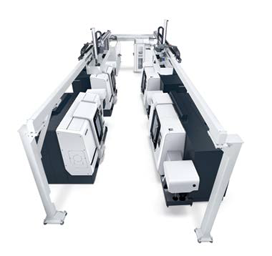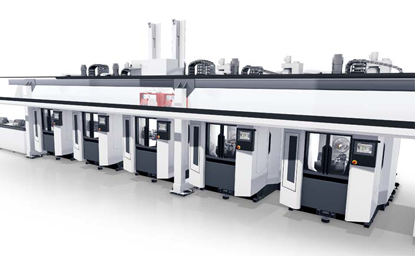 Automation systems for cell production are built in such a way that multiple machines are arranged in a "U" shape, and that transfer systems such as gantry loaders and robots, and peripheral equipment such as measuring systems and deburring units are put between the machines. The centralized control panel for managing each machine and unit and production control system can also be integrated into the system.
With multiple cells, it's possible to produce different workpieces in each cell. Adjustment of the number of cells and layout changes can flexibly respond to production schedule changes, enabling automation of the high-mix, low volume production.Advantages of the cell production are that automation can be implemented by cell, and that even when a machine in one cell stops, it doesn't affect a whole production like line production as each cell is independent. Until the suspended cell makes a recovery, other cells can continue the operation.
As for automation systems for line production, on the other hand, machines for different processes are lined up with transfer systems arranged in between, and the system automatically mass-produces the same product.
Because the scale of one system is large and the installation includes a host computer as well as various machines and equipment, the system requires more cost and time in the beginning. But once it starts operation, the system delivers overwhelmingly higher productivity than the systems for cell production.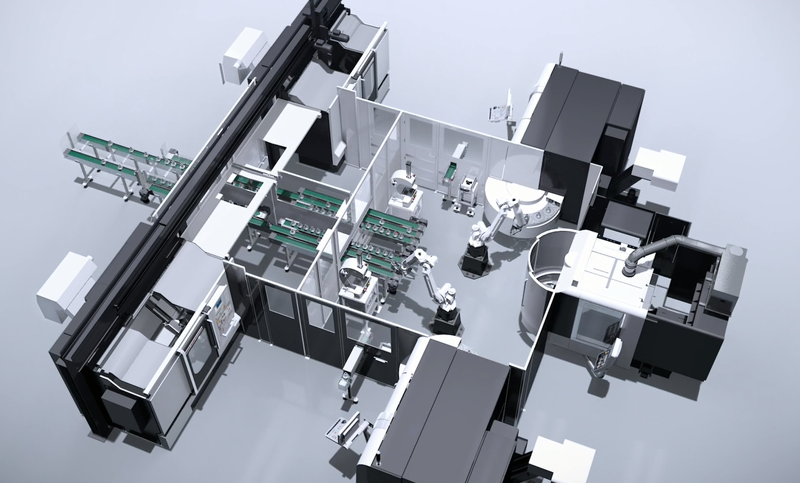 Each of the three types of automation systems has its own features and field of expertise, so please consult with DMG MORI for your best choice. As the "single-source turnkey provider," a rare presence in the industry, we provide one-stop system solutions that integrate machine tools, transfer systems, peripheral equipment, production management systems, and even machining technologies, fixtures & tools and measurement systems.
We are also happy to provide support for system installation and troubleshooting after operation starts.

DMG MORI is determined to offer the automation system that is best suited to you.
Relevant products