Peripherals

2018/05/30 UP
A quiet oil-free scroll compresser supplies best quality compressed air to your valuable machine tools
Since an oil-free scroll compressor does not use lubricant (compressor oil), it alleviates air-related troubles to machine tools or the environmental damange by oil. The high-grade type equipped with several compressors, Think Air Series, assures the continuous supply of compressed air and offers safe and comfortable operation.
*Please contact our sales team for details.
*Manufacturer: ANEST IWATA (Japan)
Features
1.Packaged offer
Our packaged proposal includes a compressor with an air dryer, an air tank, filters and air pipings. All you need to prepare is a power supply. Installtion and setup are also within the offering.
2.Oil-free, clean air supply
The oil- and air-free compressor supplies clean compressed air without oil mist.
3.Quietness
The scroll compressor generates smaller noise than 60dB and less vibration; no need to concern over noise during night-time operations.
Oil-free scroll comperessing principles

Major parts

Internal structure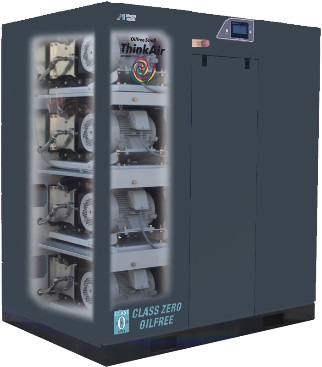 It is monted with 2-8 compressors and motors. Multi-stage control is applied, where optimal number of units are operated based on the air supply. Inefficient operation is eliminated to save energy.
*The color is titan grey, matching the machine body color
Specifications