Peripherals

2018/05/30 UP
The world's best selling electric cabinet cooler that saves energy and maintenance and achieves high cooling efficiency
Rittal's electric cabinet cooler "Blue" Maintenance-saving "e-Series" is a high-performance electric cabinet cooler to keep appropriate temperature inside the cabinet with less power, and extends devices' lifetime. Compared to the previous series, "e-Series" saves power consumption by 45%.
*Please contact our sales team for details.
*Manufacturer: Rittal (Germany)
Features
1.Electric devices protection
Electric cabinet cooler lowers temperature inside of the cabinet, and prevents breakage of electric devices caused by heat.
2.Outstanding cooling efficiency
Natural convection by cool air supplied from the bottom and warm air suctioned from the top enables ideal airflow without short circuit of cool and warm air.
3.Outstanding maintenance-saving
The device requires no filter. A special nano ceramic coating applied on a concentration device prevents dust accumulation.
4.Non-drain
Equipped with a concentrated water evaporation device (for models over 1000w)
Air flow mechanism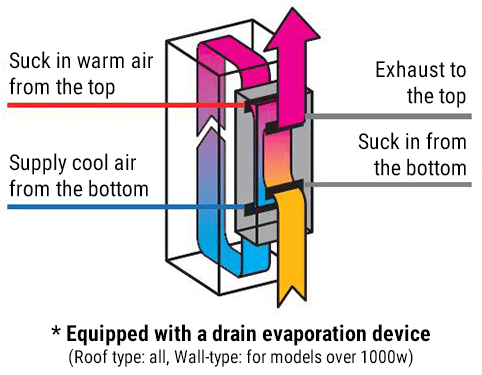 Air flow
This is how efficient cooling works: Supply cool air into the bottom part of the cabinet. Due to natural convection, warmed air moves to the top and is sucked in from the top.
Mechanical structure
Appropriate distance between air supply and suction areas prevent short-circuit of cool air.
Eco-mode
Stops circulation fan inside the cabinet depending on temperature. Contributes to energy saving by carefully controlling the fan's operation.
Attached to a machine tool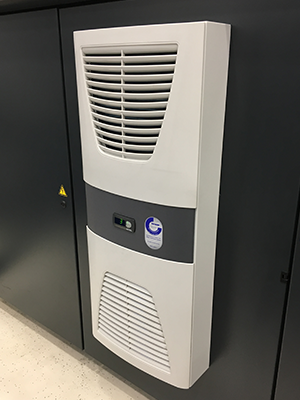 Contents related to this product