Rotary Pallet Storage System
RPS SYSTEM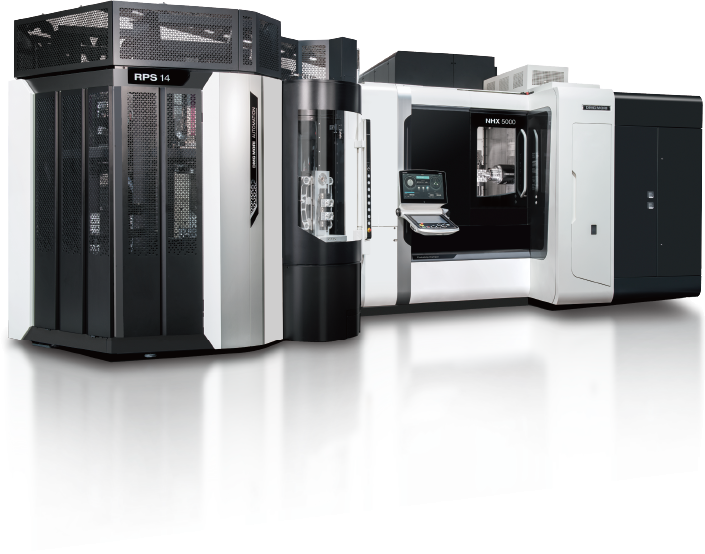 Unmatched Reliability Highly Dependable Automation System
Having a compact and simple structure, RPS is the best solution for customers who have not been able to install automation systems due to space limitations in their shops, or those hesitate to automate their production because of the negative image of automation: complicated.
DMG MORI with long and proven experience in automation systems provides the optimal automation solution for your needs.
Reference price
RPS 5
+ NHX 4000 3rd Generation

¥39,000,000~

Example

RPS 14
+ NHX 4000 3rd Generation

¥59,000,000~

Example

RPS 21
+ NHX 4000 3rd Generation

¥62,000,000~

Example
* Reference price (tax excluded). For details, please contact our sales representative or dealers.

MOVIE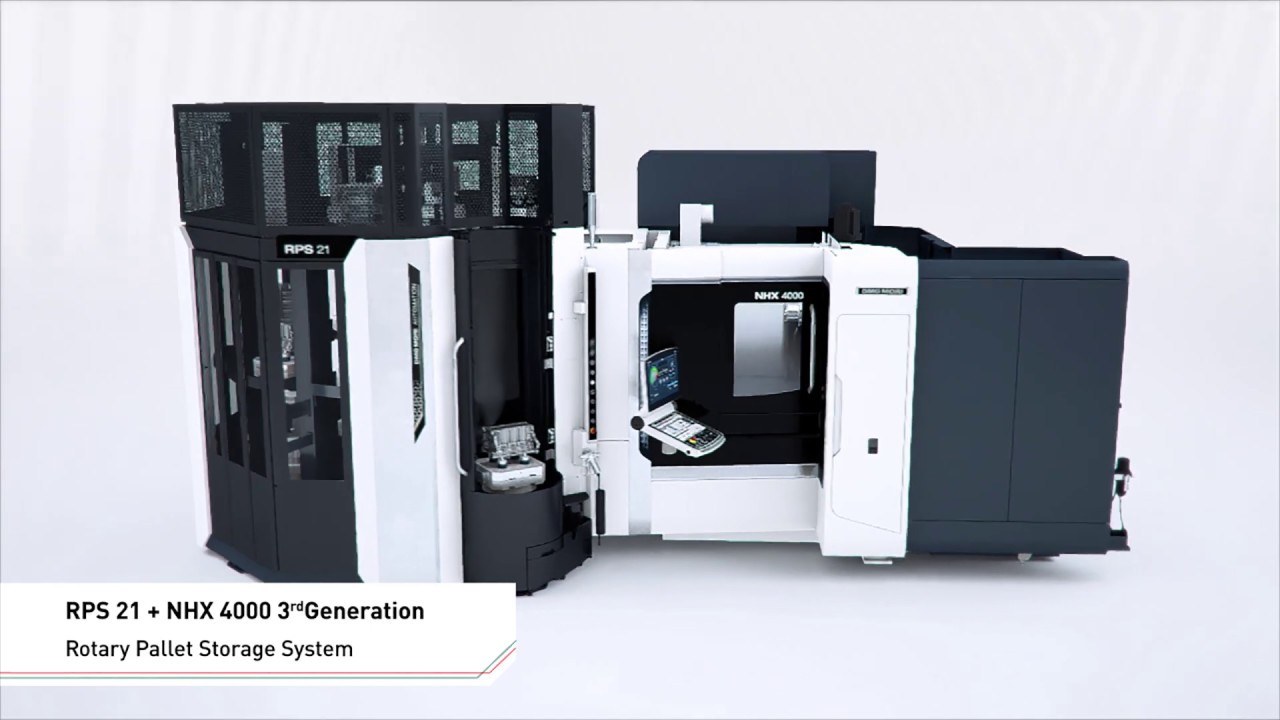 Technical advantages of RPS
Space-saving: Installation area 1/6*

It allows you to establish an efficient automation system in far less space than other automation systems.

Long-term unmanned operation

With a capability of long-term automatic operation, the system allows you to save on labor costs, for example, by conducting unmanned operation at night or on weekends.

Shorter installation lead time

Thanks to its integrated construction, the system can be installed in a short time.
* When RPS21 is compared with 20LPP
Incredibly Compact
Maximize Efficient Use of Factory Space
RPS (Rotary Pallet Storage) features outstanding space-saving and setup capabilities, and can hold more pallets per unit area than any other pallet pool system.
Comparison of operating rates and productivity
In order to help you understand the RPS's features, we have conducted a simulation comparing operating ratios and productivity under the same production conditions.
Assumptions:

We are making the comparison under the following operating conditions.
<Cycle time / 1 pc.>
881 sec. × 4,000 pcs. ≒ 979 hours (3,524,000 sec.) / month
When machining 4 kinds of workpieces at the same time.
Material <JIS>: A5052 (Aluminum)
JIS: Japanese Industrial Standard
Number of tools used: 9 tools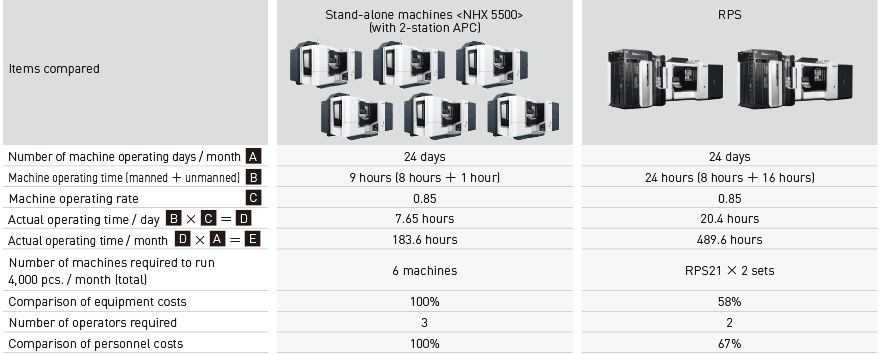 RPS's features
RPS is an ideal solution for low-cost, space-saving automation.

RPS: Rotary Pallet Storage
Simple and Easy Operation with CELOS
Setup operation is now possible not only with the conventional handy controller, but with CELOS on the machine.
The use of CELOS also allows operation and management of both the machine and RPS.
Featuring a large touch screen, CELOS offers intuitive operation just like a smartphone.
PALLET MANAGER, one of CELOS applications, ensures hassle-free operations and shorter setup times.
PALLET MANAGER*
* MAPPS V function, available for NHX 4000 3rd Generation, NHX 5000 3rd Generation and NHX 5500 2nd Generation
Easy check of pallet status on CELOS

Displays the entire system layout in an easy-to-see manner
Able to check the latest pallet status and shorten setup time
Able to transfer pallets by drag and drop of the pallet icon on the screen
Tool check to prevent troubles in advance

Automatically identifies and displays tools that are
not suitable for machining by central tool management
Prevents machining failure and troubles caused by tool breakage
Improves productivity by minimizing problem-caused rework
High flexibility to accommodate production changes

Able to assign information on multiple
workpieces to a single pallet
Easy production adjustment /
rescheduling on CELOS to respond
flexibly to sudden schedule changes or urgent requests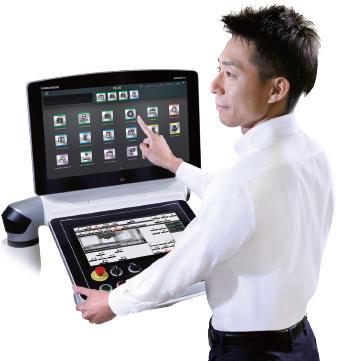 CELOS: Control Efficiency Lead Operation System
MAPPS: Mori Advanced Programming Production System
Specifications