Linear Pallet Pool System
LPP SYSTEM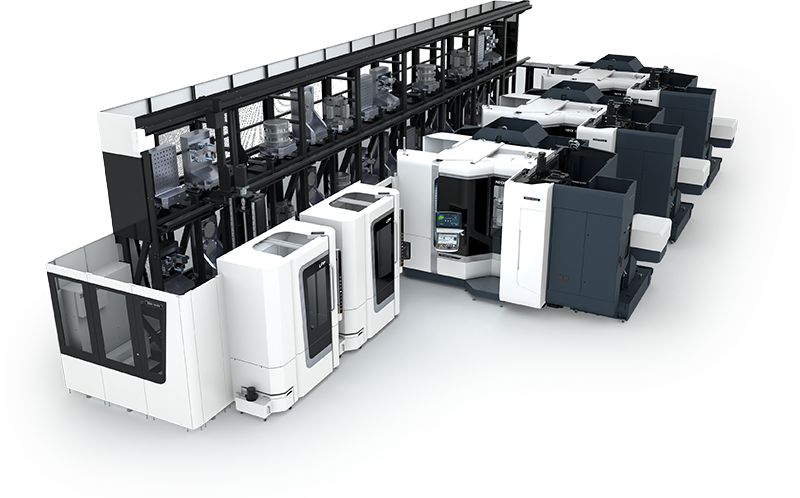 Superior and Advanced High-productivity System
The LPP (Linear Pallet Pool) system can be equipped with multi-level pallet racks, providing a high level of automation.
The system configuration can be customized to suit your needs.
An LPP will make a great contribution to improving your productivity and the rate of operation of your machines.
Reference price
LPP System
+ NHX 6300 2nd Generation

¥78,000,000~

Example
* Reference price (tax excluded). For details, please contact our sales representative or dealers.

MOVIE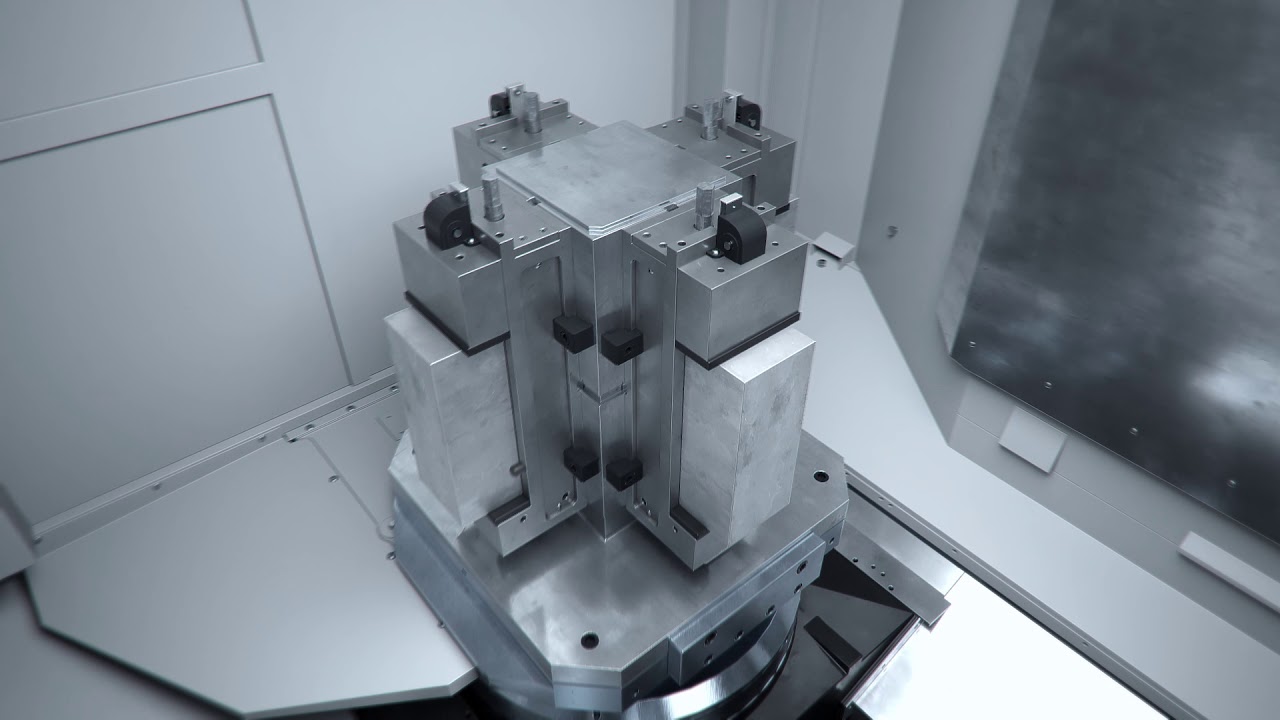 Technical advantages of LPP
Reduction in setup time

By placing multiple fixtures on the pallets in advance, no setup is needed when you receive repeat orders.

Stable quality

When you receive repeat orders, there is no need to re-attach fixtures, so there is nothing to affect stable machining accuracy.

Reduced personnel costs

Since the system allows long-term automatic operation, you can reduce personnel costs, for example by conducting unmanned operation at night.

Easy production management

The MCC-LPS Ⅲ control system allows you to manage production schedules flexibly, and to respond to urgent job requests.
The pallet pool allows flexible construction of the ideal systems to meet the customer's needs.
It uses the module design, which allows components such as pallet shelves, machines and setup stations to be added flexibly to meet the customer's production requirements.
LPP's features
Among all the various systems which are available, the LPP system is the most suitable for multi-item, small to medium-lot production.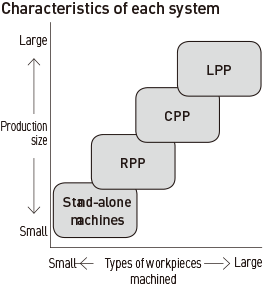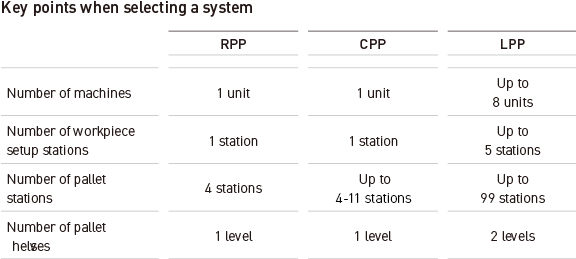 RPP: Round Pallet Pool CPP: Compact Pallet Pool LPP: Linear Pallet Pool
Comparison of operating rates and productivity
In order to help you understand the LPP's features, we have conducted a simulation comparing operating ratios and productivity under the same production conditions.
Assumptions:

We are making the comparison under the following operating conditions.
<cycle time / 1 pcs.>
897 sec. × 4,414 pcs. ≒ 1,100 hours (3,960,000 sec.) / month
When machining 2 kinds of workpieces at the same time.
Material <JIS>: A5052 (Aluminum)
JIS: Japanese Industrial Standard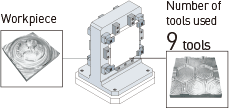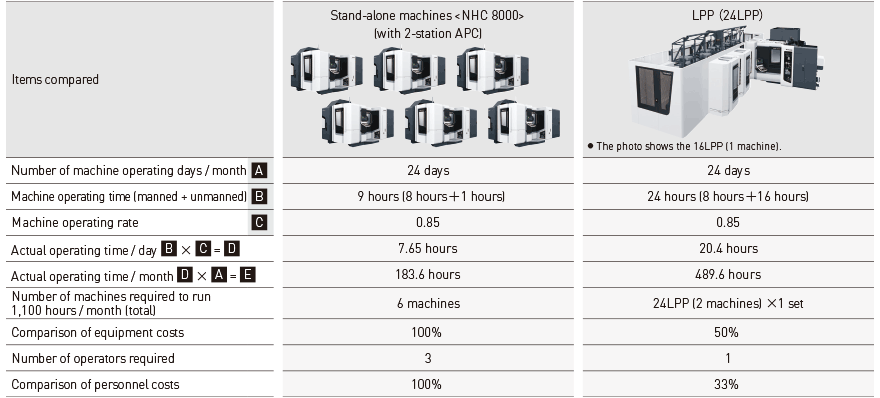 New Design with Beauty and Usability
The LPP system is designed in pursuit of usability, aiming at reduction of operators' everyday burden.
The system with a beautiful new design cover provides operators a joy of machine operation.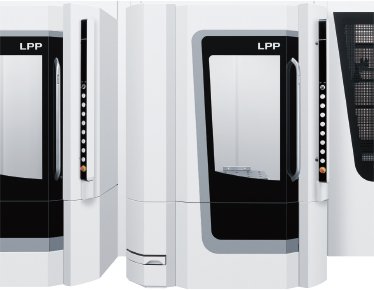 Smoother door opening / closing to reduce operators' burden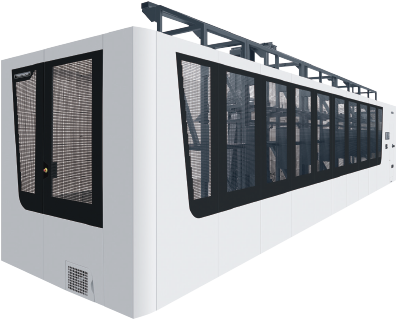 Improved visibility inside the LPP
MCC-LPS Ⅲ (Linear Pallet Pool Control System)
The system is controlled by the MCC-LPS III application system.
Flexible scheduling allows it to adapt fluidly to changes in production planning.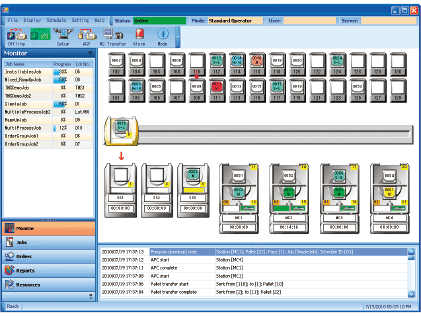 Easy operation / management of the pallet transfer system
Machining programs can be managed and automatically downloaded
Able to flexibly change production priority in response to urgent requests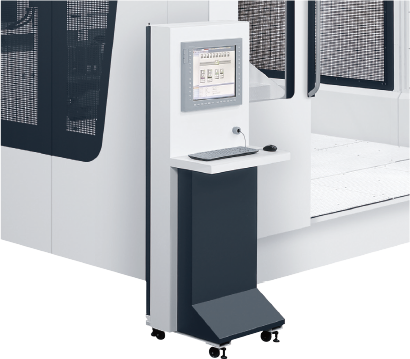 DMG MORI's original cell controller
Setup station tilting
(option) <consultation is required>

A superb station that works with any kind of workpiece.
The angle of inclination can be adjusted, facilitating setup
change work and lessening the burden on the operator.
Washing station
(option)

The washing station uses
high-pressure coolant to
remove chips attached to
workpieces and fixtures
during machining.