News/topics

2016/10/11 UP
Tag

5-axis control machining/process integration
Large machines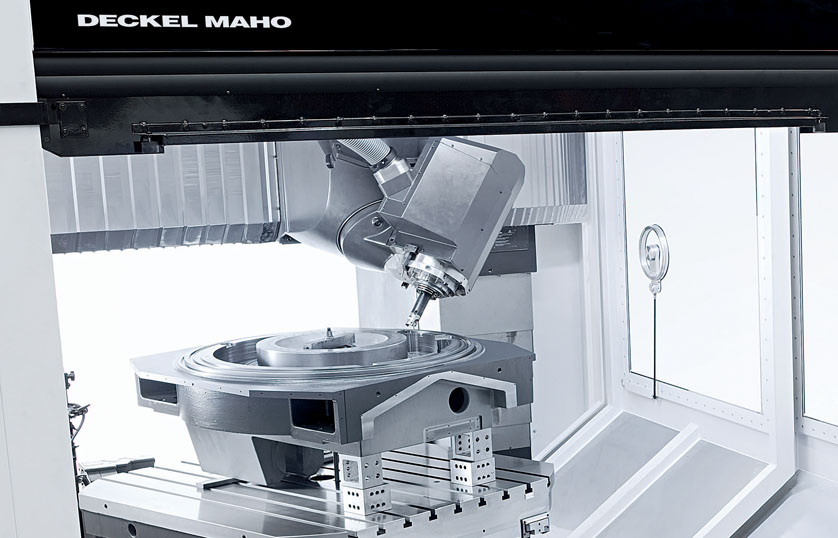 The DMU P / FD and DMC U / FD Portal Series models, which have sold more than 1,000 units by now, are 5-axis machines with a highly stable bridge-type structure achieving unmatched machining precision and dynamic performance.
In addition to a large axis travel of up to 3,400 mm(133.8 in.)* and a table loading capacity of up to 16,000 kg(35,200 lb.)*, the innovative structure that enables 5-face / 5-axis milling in one setup can ensure enhancement of productivity.
*Size of DMU 340 P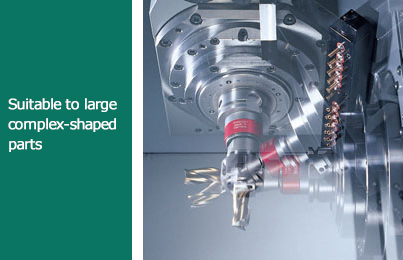 Authentic 5-face / 5-axis simultaneous machining
The 5-axis concept created by the cutting-edge and excellent precision machining technology of Germany has established a completely new standard.The 5-face machining and simultaneous 5-axis machining achieved by the spindle head technology meet the needs of various customers all over the world.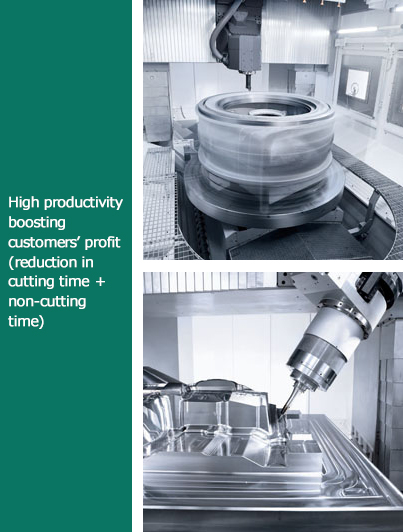 Process integration Outstanding feedrate by multi-axis function
Complete machining of milling and turning is possible in one clamp.Machining which used to be done with multiple machines now can be performed on one machine, achieving space saving and reduction in capital investment costs.

Machining Performance of Four
5-face Machines Integrated into One
Outstanding feedrate
The series ensures the highest level of precision and dynamic performance (acceleration of up to 0.6 G) to achieve high-speed machining.The enhanced feedrate and spindle speed dramatically reduce machining time compared to the conventional machining method.
Max. acceleration: 0.6 G
Rapid traverse rate: 60 m/min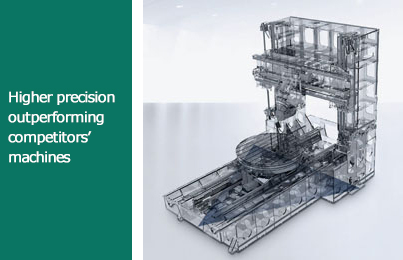 Stable 3-point support structure
The series employs the high-rigidity bed with a 3-point support structure which allows for easy height adjustments as against fully adjustments required of the structure with four points or more. As the base is not affected by changes over years, the series models are able to keep stable machining precision.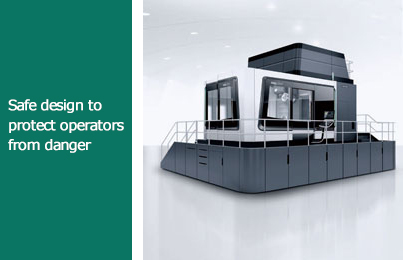 Fully-covered machine body
The machining envelope of most large bridge-type machines are generally not covered, so it can result in unclean air and floors, bringing possible health and safety issues of operators. The machine body of the DMG MORI Portal Series are fully covered to clear such issues, ensuring safe and clean work environment.
《Workpiece samples》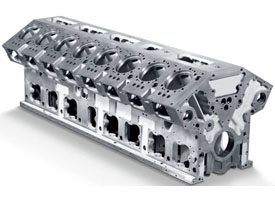 Crankcase(automobiles)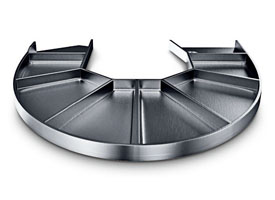 Component(aerospace)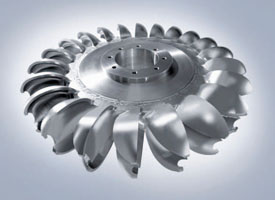 Pelton wheel(energy)
The DMC 340 FD installed at the Iga Campus
Meet the DMC 340 FD, a large 5-axis machine with a pallet changer, at the Iga Campus, which is the only place in Japan where the machine is in operation as production equipment. As it is also a display model, you can witness its high-efficiency and high-accuracy machining for yourself.Please check the documentary video showing from the machine transportation from Germany to Japan to the installation at the Iga Campus.
For reservation for the Iga Campus factory tour, click the link button below, and fill in the form.
Relevant contents
Relevant products