News/topics

2016/09/09 UP
DMG MORI and Microsoft Japan Reach Agreement on Technological Cooperation for Security of Machine Tool Control Systems and Implementation of Smart Factory

Tag

Digitalization
IoT
Smart Factory
Security
DMG MORI CO., LTD (Head office: Nakamura-ku, Nagoya; President: Dr. Masahiko Mori; hereinafter called DMG MORI) and Microsoft Japan Co., Ltd (Head office: Minato-ku, Tokyo; President & CEO: Takuya Hirano; hereinafter called Microsoft Japan) reached an agreement on technological corporation for security of machine tool control systems and implementation of "Smart Factory."
In a recent trend of rapid globalization of production in the manufacturing industry, "Smart Factory" has been drawing a great deal of attention. "Smart Factory" uses IoT (Internet of the things) technologies that connect every device in a factory via the Internet; analyzes shop equipment information and the sensor data in real time in the cloud; and optimizes production management and quality control. Behind the advancement of technologies, on the other hand, some factories and infrastructure such as power plants have been cyber-attacked, and security of control systems has become one of the most urgent issues today.
In such a background, DMG MORI, the world's largest machine tool manufacturer, and Microsoft Japan, with a solid record of providing security services on a global scale, will work in collaboration to tackle various issues including security measures for control systems by making the most of the know-how each of the two companies has built up. Microsoft Japan offers a wide range of the IoT bases, from the operation system for embedded devices (Windows 10-based operating system "Windows 10 IoT Family") to the public cloud platform (Microsoft Azure), and provides the most advanced cyber security measures.
The technological cooperation for implementation of "Industry 4.0" and "Smart Factory" includes the following:
Security
Security of products that uses Windows, such as CELOS(Machine tool console)
Safe data transfer to aggregate sensor information in the cloud
Data handling in the cloud
Data operation in the cloud and application of data
Proactive utilization of data for preventive maintenance and others based on analyses of the collected data
Technological examination for new business model
Utilization of advanced IT technologies
Utilization of data for operators' safety
Improvement of machine operators' efficiency by use of VR(Virtual reality)/ wearable devices.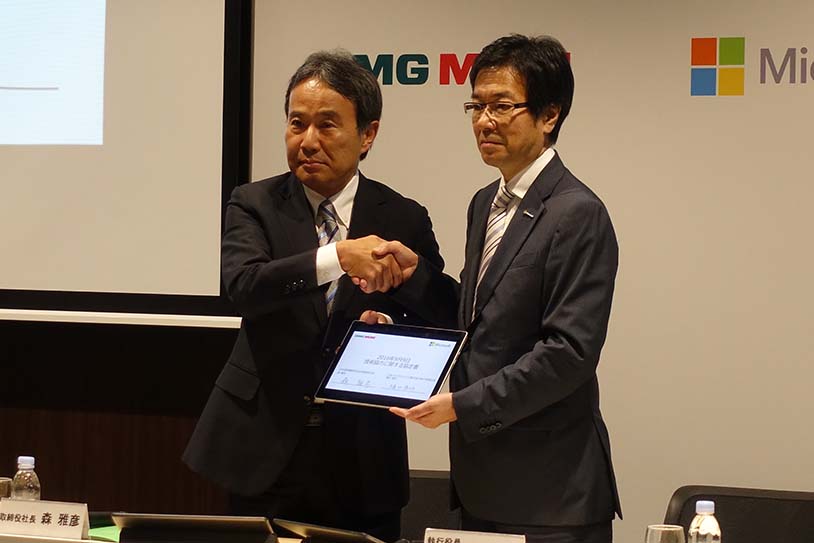 Relevant products