Masterpiece in the world

2018/05/10 UP
Masterpiece in the world #20
A small-sized, cost-efficient and eco-friendly insert with maintained performance-level – "ISO Eco Turn"

Tag
75% of conventional turning users cut 3mm deep or less (see Figure 1). However, one might find it difficult to secure an optimized-sized insert for the shallower cutting, and often have no choice but to use a bigger one.
In that case, the solution is to use a small-sized insert. However, smaller ones are usually thinner and therefore more easily broken, and the downsized breakers might deteriorate chip-processing efficiency.
Tungaloy's eco-friendly insert "ISO Eco Turn" solves these problems in conventional turning machining, while maintaining cutting performance of a standard product.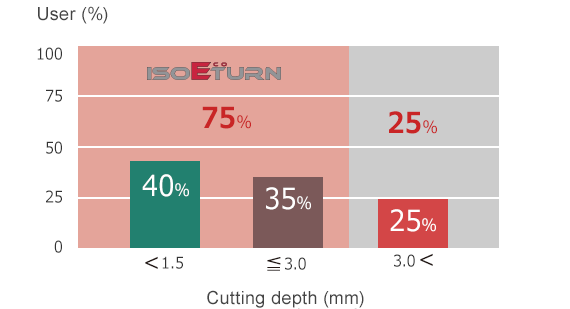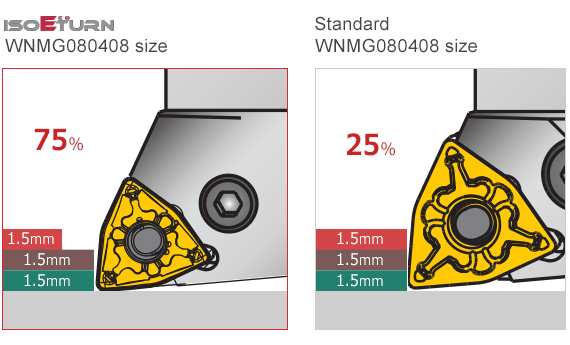 Figure 1: Turning-machining users by cutting depth (according to Tungaloy's survey)
A standard-sized insert is not cost-/space-efficient, while a small insert has issues in breakability and chip-processing
1.Breakage-resistance
An insert's thickness impacts the insert's breakability. That is why "ISO Eco Turn" has the same thickness with a standard insert to secure the equivalent robustness. Compared to a standard CNMG120408 type, "ISO Eco Turn" is smaller in size, but the thickness is not different (see Figure 2 and 3). This feature greatly helps "ISO Eco Turn" achieving the same cutting performance as standard ones.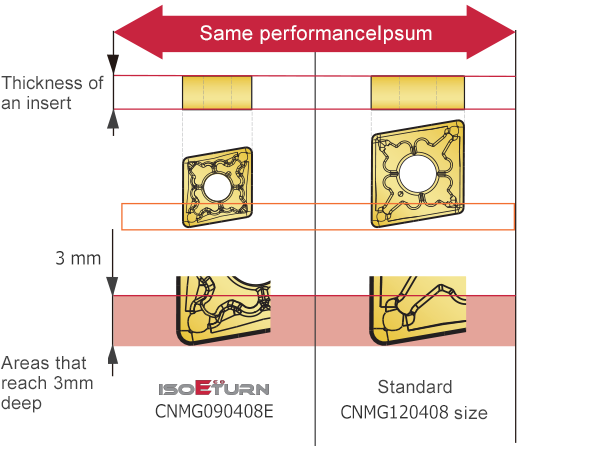 Figure 2: ISO Eco Turn technical features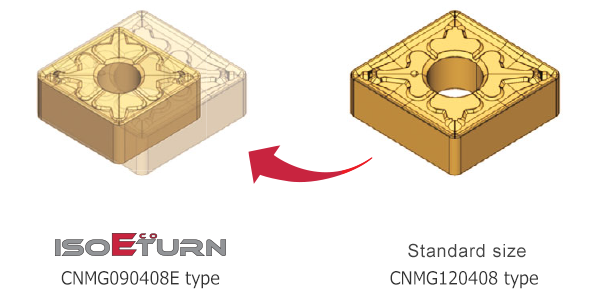 Figure 3: Comparison of ISO Eco Turn and a standard-sized insert
2.Chip-processing efficiency
Another issue as important as breakage-resistance is chip-processing efficiency. Normally a smaller-sized insert has a smaller breaker, which often results in lower chip-processing performance.
However, "ISO Eco Turn" has the same breaker specifications as a standard insert for the targeted cutting-depth range under 3mm. One can replace a standard insert with "ISO Eco Turn" and still enjoy the same chip-processing efficiency and cutting capability.
3.Eco-friendliness
"ISO Eco Turn" uses less carbide compared to a conventional insert thanks to its smaller size. In that sense, ISO Eco Turn is an eco-friendly insert series with a mitigated impact on the environment, given the recent scarcity of rare metal, especially of Tungsten in the cutting tool industry. Also, the much-downsized insert is set at lower price range than a standard one, leading to tool cost reduction in production lines.
The product lineup includes CVD-type T9100 series for steel material, cermet-type NS/GT9530, CVD-type T5100 series for cast irons, CVD-type T6100 series for stainless, PVD-type AH600 series, PVD-type AH8000 series for hard-to-cut material/stainless and PVD-type AH120 for universal applications.
The environmental-friendly "ISO Eco Turn" will benefit your factory with lower tool cost and maintained operability and cutting performance.
The article introduces the DMG MORI selection of masterpiece equipment in the world.
Please visit our DMG MORI showroom to see the products in the article.
*As some equipment is displayed for a limited time only, please check with us in advance.