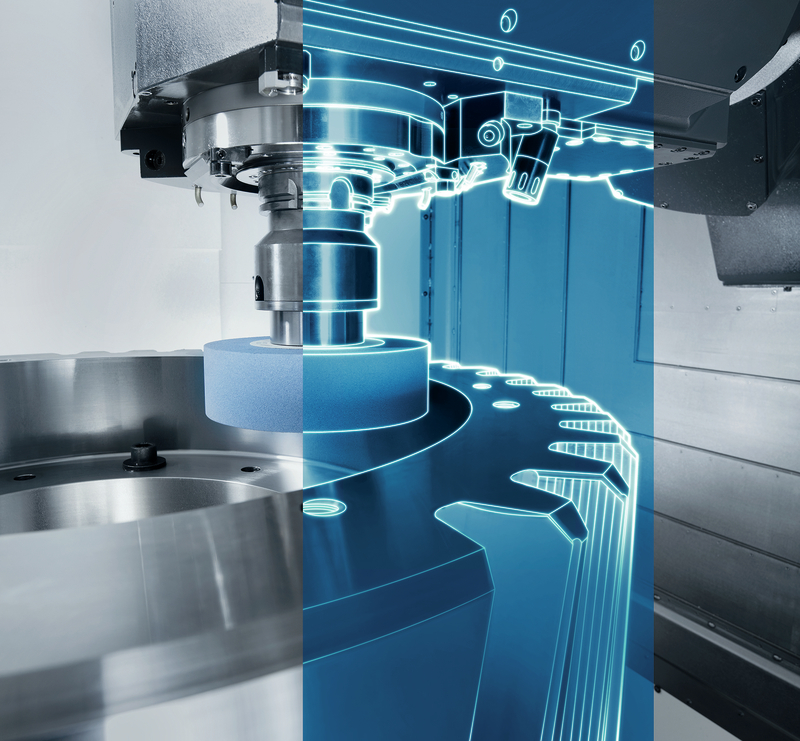 Enable Grinding on Machining Centers
Grinding, one of the "Shaping" functions of Technology Cycles, enables grinding on 5-axis machines and machining centers. Conversational programming software for grinding embedded in 5-axis machines and machining centers enables both cutting and grinding on one machine.
Main Applicable models
DMU / DMC FD duoBLOCK series
DMU / DMC FD Portal series
Unique selling points
1.Grinding on general-purpose machine
Grinders equipped with a grinding wheel and a dresser for the maintenance are generally used for grinding. Many of our customers, however, actually outsource grinding processes if they don't own the machine. Grinding on 5-axis machines and machining centers ensures efficient machining.
2.Conversational programming
Operators can create programs for grinding, dressing, and truing (reshaping) simply by setting parameters while checking graphics displayed on a HMI, CELOS. Inputting parameters does not require special skills, so programs can be easily created in the conversational programming style.
3.Versatility
Grinding is available on the DMU FD duoBLOCK series, 5-axis machines, and the DMU FD Portal series, large 5-axis machines. Extension of its application to other models is also under way.Grinding enables cutting and grinding, achieving process integration and footprint reduction.