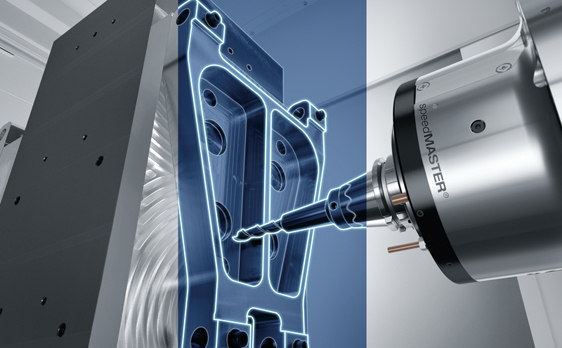 Control Vibrations for OptimalMachining Conditions
MVC, one of the "Monitoring" functions of Technology Cycles, supports the optimal machining by controlling vibrations. The acceleration sensor mounted in the spindle detects the vibration, and the DMG MORI-developed built-in software calculates the spindle speed to suppress the vibration based on the vibration frequency and displays several machining conditions on the screen.
Main Applicable models
Background of Development
Finding the optimal machining condition to control chatter highly relies on experience of skilled engineers. For engineers with less experience, it usually takes longer time due to a trial-and-error adjustment. The use of end mills with variable pitch and variable lead can be one of the solutions as chatter is less likely to occur to them, whereas the disadvantages are that they are expensive and have few variations of types. So DMG MORI has developed "MVC" that automatically calculates the machining condition that is capable of controlling chatter.
Unique selling points
1.Equipped with high-accuracy sensor
Conditions in which vibration is generated vary depending on the material and shape of the workpiece and type of the tool in use. Under various conditions, MVC detects vibrations by using the high-accuracy acceleration sensor mounted on the spindle, and calculates the optimum machining conditions. MVC is particularly suitable for machining using an end mill, and is also useful for improving the machining conditions in the existing programs.
2.Operability
MVC has a simple and easy-to-understand interface and can be operated on the touch screen panel of CELOS, an HMI. After analyzing the vibration, MVC displays an optimum speed of the spindle. By just selecting the spindle speed displayed on the screen, operators can set the optimum machining conditions without expertise about the vibration suppression. Since the selected machining condition can be reflected in the program seamlessly by the FS (feed rate, spindle rotation speed) editing function, operators can proceed to the mass production from the test machining smoothly. The FS function is included in MVC as standard.
3.High productivity
MVC contributes to reduction of time for test machining and improvement of machine operating time since it quickly determines the machining conditions to suppress vibration using the acceleration sensor and the DMG MORI-developed built-in software.