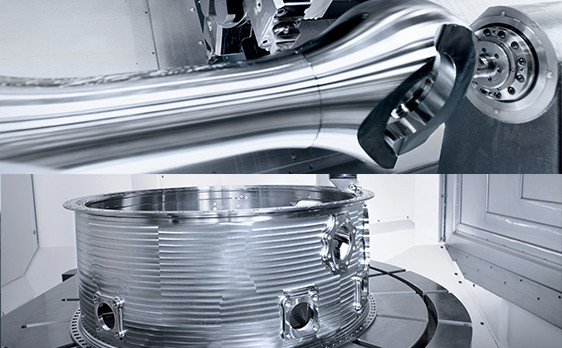 Minimize Chattering by Controlling Spindle Speed
Alternating speed minimizes vibration during turning by periodically changing spindle speeds. It is the optimal solution for machining of long, easy-to-chatter workpieces such as shafts.
Main Applicable models
CTX Series
CTX TC/CTX TC 4A series
DMU/DMC FD duoBLOCK series
DMU eVo series
ALX、NLX、NZX、NTX series
Background of Development
Even under the recommended cutting conditions for tools, chattering can occur and affect machining accuracy and efficiency. In such a case, spindle speeds are adjusted as a general solution, but the programs are very complex and take a certain time to create. So DMG MORI has developed Alternating speed that supports easy creation of the programs for minimizing chattering in a short time.
Unique Selling Points
1.Versatility
Alternating speed is available on many models, such as turning centers or 5-axis FD machines equipped with a direct drive table.
2.Conversational programming
Operators can create the programs that increase/decrease the spindle speed simply by inputting parameters, while checking the graphics displayed on CELOS, an HMI. Inputting parameters does not require any special skills. As the programming is done by the conversational method, the programs can be created in a short time.
3.Reduction in investment costs
Boring bars or steady rests can also control chattering, but as Alternating speed minimizes chattering by programs, it can cut down investment costs for additional peripheral equipment and facilities.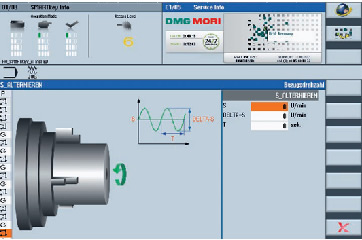 <SIEMENS>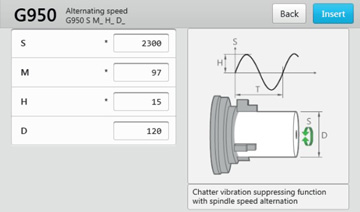 <MAPPS>
Inputting of rotation periods