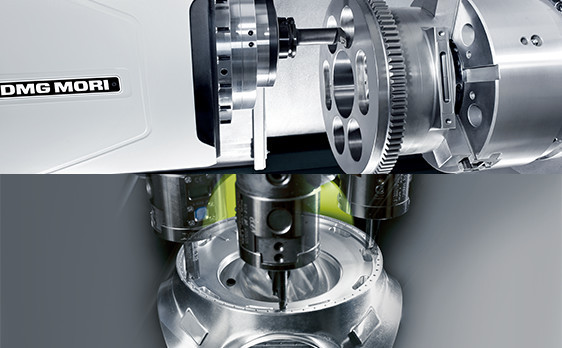 Support Turning with Milling Spindle
Interpolation Turning supports programming for turning performed with a milling spindle. It enables operators to easily create programs for turning in which the milling spindle rotation and the arc movement are synchronized, using the conversational programing method.
(Top image:Turning / Bottom image:Milling)
Main Applicable models
DMU/DMC monoBLOCK series
DMU eVo series
DMU/DMC FD duoBLOCK series
CTX TC/CTX TC 4A series
NHX, NTX series
NVX, CMX series
Background of Development
Increases in number of processes and setup time and a need for special chucks are among the issues when workipieces whose centers of the turning forms are not on the same axis, such as valve sealing surfaces, are machined on a turning center. A workpiece is not rotated during orbit machining on a milling machine, which ensures high-accuracy performance, but the programs are complex and take time to create. Therefore, DMG MORI has developed Interpolation Turning that easily enables orbit machining on the DMG MORI 5-axis machines or integrated mill turn centers in a short time.
Unique Selling Points
1.Versatility
Interpolation Turning supports orbit machining on 5-axis machines and integrated mill turn centers. The Technology Cycle is available on the DMU monoBLOCK series, DMU eVo series, DMF series, DMU FD duoBLOCK series (5-axis machines), the DMC V series (vertical machining center), and the CTX TC series (integrated mill turn centers), followed by more in the future.
2.Conversational Programming
Machining taper or arc forms with the milling spindle requires highly difficult programs. With Interpolation Turning, operators can set the parameters while checking the graphics displayed on CELOS, an HMI. As inputting parameters does not require special skills and the programming can be done interactively, such highly difficult programs can be created in a short time.
3.Boring
Interpolation Turning also supports boring. As one tool can be used for various machining diameters, the number of tools can be decreased, leading to reduction of tool costs.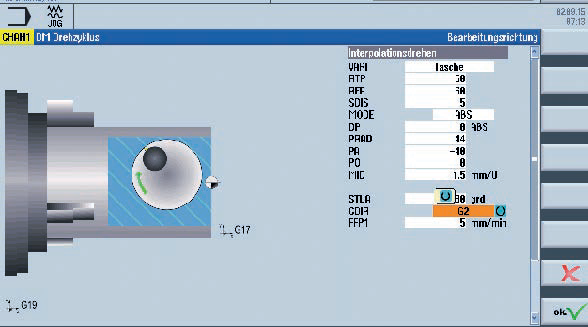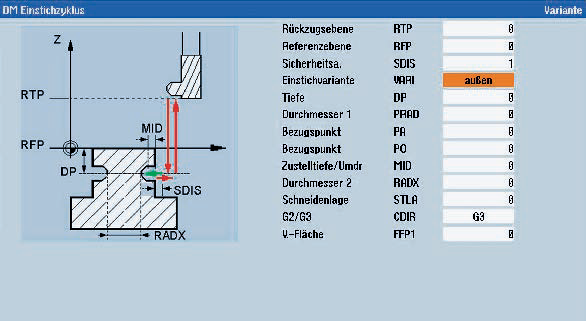 <SIEMENS>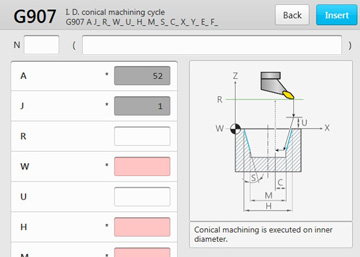 <MAPPS>
Inputting parameters by the conversational programming method