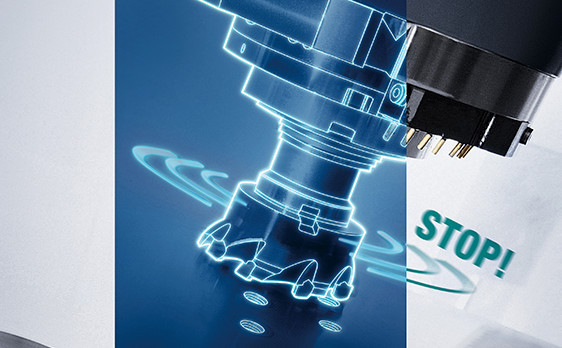 Protect Spindle by Emergency Stop
MPC monitors vibrations with the acceleration sensor attached to the spindle. When detecting abnormal vibration values, MPC stops the spindle within 0.01 seconds to minimize the damage to the machine. It is also equipped with the function to diagnose the condition of spindle bearings. As the function detects wear of the bearings in advance, it is also effective as preventive maintenance.
Main Applicable models
DMU eVo series
DMC monoBLOCK series
DMU/DMC(FD)duoBLOCK series
NVX、NHX、NTX series
Background of Development
Various functions have been developed for NC machine tools to prevent accidents possibly caused by interference. For example, when a load torque exceeds the threshold, the abnormal load detection function stops the motor and outputs an alarm. Real-time simulation by the 3D interference checking function is also helpful. However, the abnormal load detection function can be used only on the machines equipped with certain NC units, and the 3D interfere checking function prevents interference only when a 3D model is set in the same way as actual machining. Therefore, DMG MORI has developed MPC that minimizes damage to machines independently of NC unit functions at a time of interference. Operators can safely use machines simply by setting parameters.
Unique Selling Points
1.Equipped with high-precision sensor
When the high-precision acceleration sensor on the spindle detects abnormal vibrations, machine operation is stopped in emergency within 0.01 seconds to prevent interference. Emergency conditions can be flexibly set by operators.
2.Preventive Maintenance
MPC analyzes vibrations detected by the acceleration sensor to diagnoses wear of spindle bearings. As it is equipped with the data logger function to store the history data, the data in the past can be retrieved and analyzed on an external PC. This enables operators to predict when maintenance is necessary in advance. As the spindle can be repaired or replaced to prevent emergency problems before they happen, shop floor production can be done as planned.
3.Operability
With MPC, operators can check the following three conditions on CELOS, an HMI: "MPC Peak Meter" that indicates the spindle unbalance and vibration levels during machining; "MPC Graph" that shows immediate vibration levels and limited values; and "MPC Diagnostics" that displays the bearing status and cumulative record of vibrations.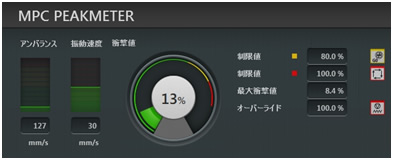 MPC PEAKMETER
Current values of unbalance and vibration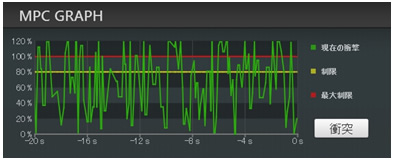 MPC GRAPH
Vibration level of immediate 20 seconds and the limited values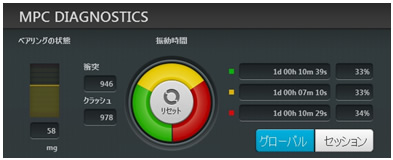 MPC DIAGNOSTICS
Bearing conditions
Cumulative record of vibration
Contents related to this product