Peripherals

2018/05/30 UP
A space-saving and sound-/vibration-proof compressor with a dryer
The compact and reasonable lubricant-type compressor, combined with an air dryer, offers sound- and vibration-less environment. It saves energy by "full-automatic operation control system," which automatically switches from continous to intermittent operation.
*Please contact our sales team for details.
*Manufacturer: Meiji Kikai (Japan)
Features
1.Packaged offer
Our packaged proposal includes a compressor with an air dryer, an air tank, filters and air pipings. All you need to prepare is a power supply. Installtion and setup are also within the offering.
2.Newly-designed 2-stage compressor
Lower temperature of discharged air and less oil consumption make the compressed air cleaner.
3.Less vibration and noise
The package structure effectively insulates sounds. It has sound-abrosbing polyfoam and low-noise suction filters inside to minimize noises.
4.Easy maintenance, lower cost in total
Daily checkups and maintenances are easy, due to the simple structure.
Installation image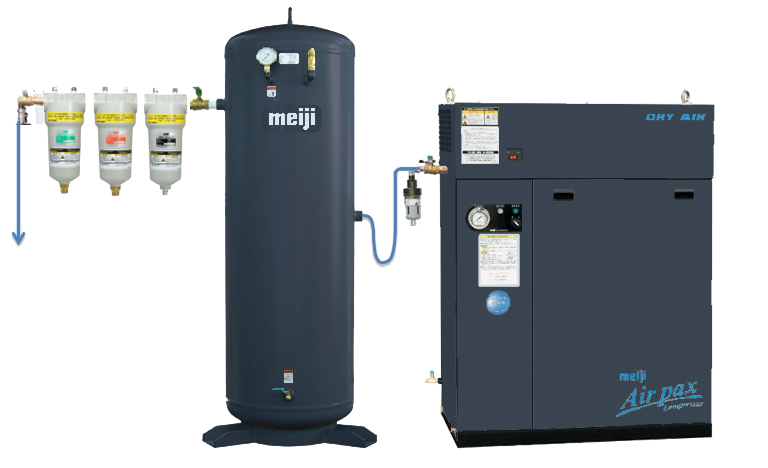 *The color is titan gray, matching the machine body color
Specifications